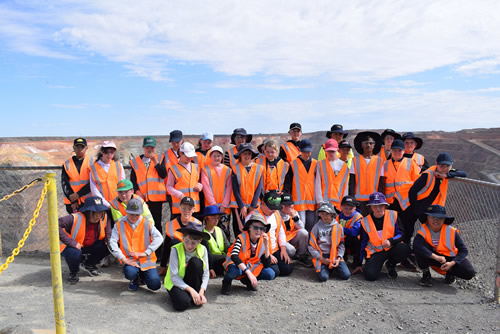 From the 14-18 of September the Year 6 students at Merredin College travelled to Kalgoorlie for our camp.
When we arrived at the Kalgoorlie Camp School we completed a range of team games and then went up to Mount Charlotte. It was so interesting to see where the pipe line ends and see first hand what we had been learning about. From the top we could also see the entirety of Kalgoorlie. That night we started our Minute to Win-It competition, it was very funny watching everyone compete.
On Tuesday we were up very early for Bootcamp with Mr Postans. We then headed off on a tour into the Super Pit, which was kindly sponsored by Saracen. We got up close to dump trucks and loaders and peered over the edge into the Super Pit. We then headed off for a play at Hammond Park and had some lunch. In the afternoon we went Bouldering – this was such a highlight for us as we had never experienced anything like it before. That night we learnt how to Boot Scoot.
On Wednesday morning, once again we were up and ready for Bootcamp. Then we went to the Museum of the Goldfields, here we learnt so much about life in the Goldfields in the past. We also got to go up a ginormous head frame and into an old miners cottage. We then travelled to the WA school of the Mines. We had never been to a University before so it was amazing to see the facilities and all the things you can study there. We even got to have a go at some of the events they do for the Mining Olympics. That afternoon we headed out to the Two-Up shed. We learnt the history of Two-Up and had so much fun learning how to play. That night we continued our Minute to Win-It competition with a wacky clothes quiz night as well.
Thursday was our final day of activities. We started at Hannans North Tourist Mine where we learnt how to pan for gold, climbed dump trucks and loaders and learnt even more about the Goldfields and mining in such an interactive way. We then had a fun afternoon at the pool and went on the crazy race. That night we were all very tired so we had a movie night.
On Friday we packed up and headed home. We had such a wonderful time on camp and we are so grateful to the adults that made it possible. Thank you to Mrs Baltovich, Mrs Postans, Mr Postans, Ms Jarvis, Ms MacAulliffe, Sal, Dave and Paul.
Written By The Year 6 Students.