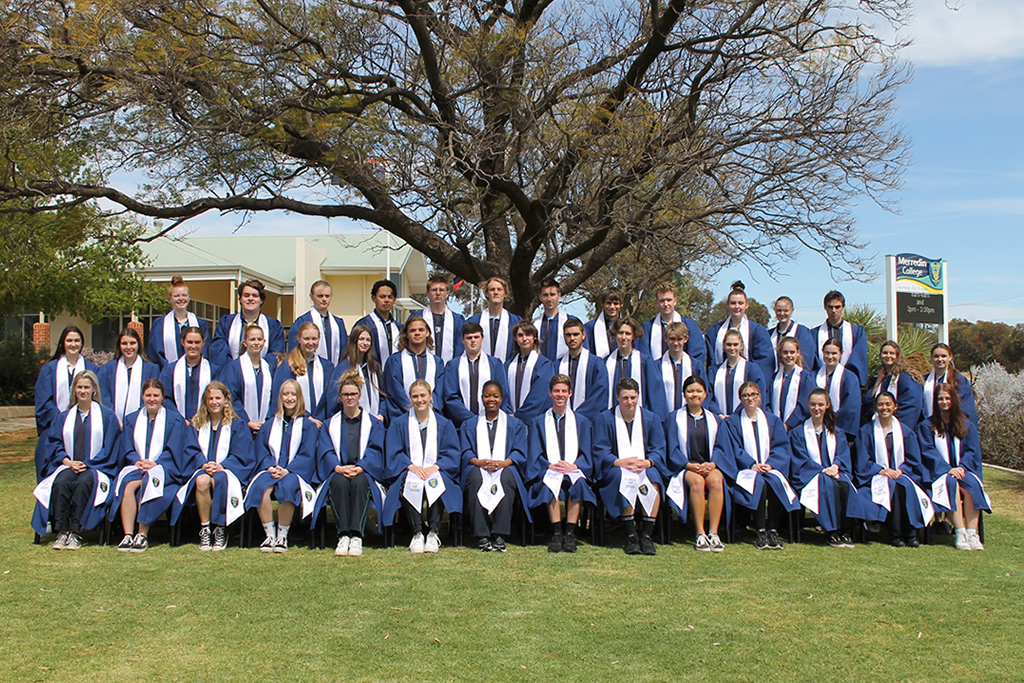 Congratulations and Farewell to the Year 12 Class of 2020!!!
Since the start of Term 4 we have held a three celebrations in honour of the Year 12 students as they complete the end of their school years. A special Farwell Assembly was held in Week 1 – where the Kindy class presented them with a special lay in memory of their time at Merredin College.
Following the assembly, as per tradition, the Year 12 students were invited to enjoy a special Morning Tea with staff in the staffroom where students presented staff members with funny awards and vice versa. This is great opportunity to share in some special memories made here at the college and for staff to personally wish the leaving class all the best for their future.
On the evening of Friday, 23 October an unforgettable setting was created on school grounds for the '2020 Year 12 Awards Ceremony' where the Special Honour Awards and Highest Achievers for 2020 were presented to students. Also returning from the 2019 Graduating Class were winners of 2019 Dux Awards and The Les Last Scholarship who delivered some words of wisdom to this year's graduating class as they move into the next chapter of their lives.
Merredin College is grateful to businesses who were able to sponsor the awards this year, and to the special guests and families who made time to attend the ceremony and assist in making this a memorable time for our Year 12 students.
Dux of Class 2019
Chelsea Willis

Dux of Vocational Education & Training of 2019
Jasmine Spencer

The Les Last Scholarship Award for Class of 2019
Amy Tiller

Long Tan Leadership and Teamwork Award
Jayde Watkins

Sportsperson of the Year
Charlee Brooker

Merredin Residential College Endeavour Award
Rebecca Nelson

Tiller Shield
Daniela Navales

Florence Scanlon Citizenship Award
Breanna Charleson

Best All Rounder
Daniela Navales

Excellence in VET Award
Rex Clement

The Gerard Rennie Award
Most Consistent ATAR Student
Thomas Farson & Panashe Mudimu
AWARD/S                                                          
Charlee Brooker
Certificate II in Business

Breanna Charleson
General Drama, General English, General Career and Enterprise,
General Mathematical Essentials & Certificate III in Information Digital Media Technology

Rex Clement
Certificate II in Automotive, Certificate II in Engineering Pathways & General Woodwork

Connor Coulthard
Certificate II in Building and Construction

Halle Douglas
General Food Science and Technology

Jelara Daddow
General Outdoor Education

Thomas Farson
ATAR Physical Education Studies & ATAR Modern History

Bree-Annah Ferguson
General Visual Arts

Kiara Flanagan
General Physical Education Studies

Thomas Flint
Foundations English

Panashe Mudimu
ATAR Mathematical Applications, ATAR Human Biology & Certificate II in Dance

Daniela Navales
ATAR English

Benjamin Pawlow
Inclusive Education

India Tieland-Hargreaves
Foundations Mathematics