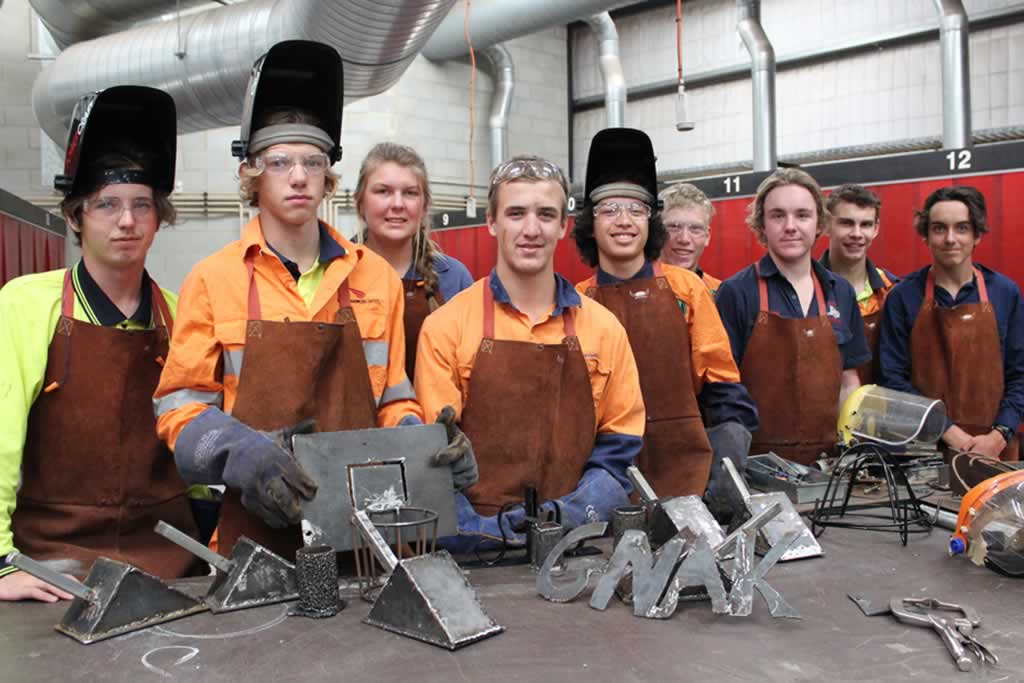 Would you want to be a bricklayer, carpenter or welder?
Who really knows what they want to be until they get the chance to try it!
Twenty Year 9 &10 students from four District High Schools were provided with just that opportunity when they attended a three day 'Try-A-Trade' Program run at Merredin College – Rutherford Trade Training Centre from 27-29 November.
Over the three days students from Bruce Rock DHS, Mukinbudin DHS, Jei-kwjuan Brown, Narembeen DHS were instructed in some of the basic skills of bricklaying, carpentry and welding by Mr Shane Ward, Mr Ian Gibbs and Mr George Pitt  – Trade lecturers from Central Regional TAFE in Northam.
The three lecturers commenced the program with some 'wise words of wisdom' regarding Occupational Health and Safety requirements and the students' need to be attentive at all times. Students then made their way to the relevant area of the Rutherford Trade Training Centre for the 'trade' they had selected.
Over the three days each group was involved in many 'hands-on' activities.
The bricklaying students were involved in bricklaying and paving activities while the welding group were learning the art of MIG, TIG and 'stick' welding as well as plasma cutting. Using basic building skills the carpentry students were able to construct a wooden box.
'Trial and error' was a feature of the 'hands-on' activities with students fixing up their mistakes when they had any miscalculations.
As well as putting the basic skills to the test each of the students learnt one very important skill – working as a team.
After three days of intensive work most of the students commented on how weary they were before heading home for a well-earned rest.