Year 9 Canberra Excursion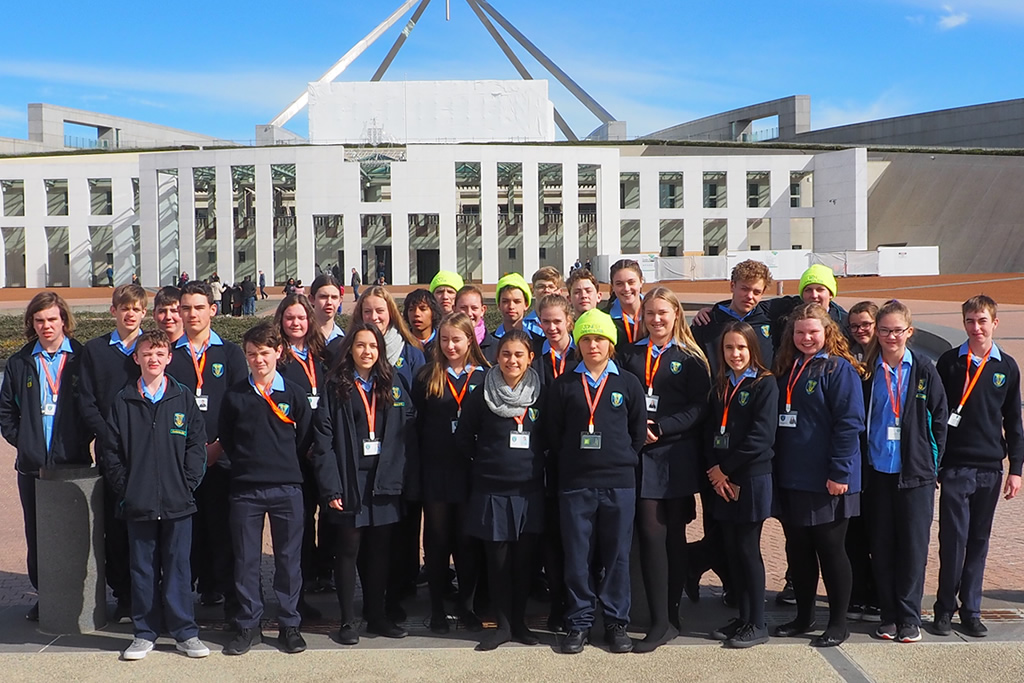 On Saturday 18 August, 29 excited Year 9 students from Merredin College flew to Canberra via Sydney on the midnight horror. They were accompanied by their intrepid supervising teachers Cathy Flynn, Gerard Rennie, and Tom James. This was a much anticipated camp, which took twelve months to plan. After a quick tour of some of sights of Sydney, including the iconic Sydney Harbour Bridge and Opera House, students transferred to Canberra by bus. The bus trip was pretty quiet, except for the sound of snoring students and teachers. Luckily our bus driver Robbie was wide awake!
The remaining week was spent exploring our national capital. Some of the activities included visits to Parliament House, The Australian National Museum, the Australian Electoral Commission, the Museum of Australian Democracy, Deep Space Communication Centre, Questacon and the Australian Institute of Sport. A highlight for all students was the fact that Parliament was sitting on the day we visited and we were able to view and hear question time in both The House of Representatives and the Senate. The students were lucky enough to witness history unfold as the events leading to a change in Prime Minister happened before their eyes. The students were also pleased to meet the Member for Durack, Melissa Price. Many of the students were also quite impressed when they spotted Pauline Hanson in the flesh too.
On Wednesday we visited the Australian War Memorial and all 29 students were excellent representatives of Merredin College; demonstrating respectful and courteous behaviour at all times. Highlights of the day included, the Wreath Laying Ceremony in the tomb of the Unknown Soldier, placing poppies on the Walls of Remembrance and meeting Al – the veteran who flew the Huey helicopter that is on display in the Vietnam Gallery.
The second last day was spent snow skiing at Smiggins in the Snowy Mountains (Kosciusko National Park) and was definitely a favourite activity for many. There were quite a few students who mastered skiing very quickly and were soon confidently using the intermediate ski runs. For those students who found skiing more of a challenge the afternoon was spent playing and building snow men. Thankfully the weather was kind to us for the entire trip, quite cold but no rain!
To assist families in meeting the cost of the excursion the Australian Government contributed funding of $240.00 per student under the Parliament and Civics Education Rebate program. The students of the Merredin College Canberra Tour 2017 would like to express their appreciation of this rebate. Plans for the 2019 camp are already underway and this year's Year 8 students are very excited and hoping to gain a place on the tour.
Mrs Cathy Flynn
Excursion Co-ordinator