2019 Year 3-6 Merrydin Concert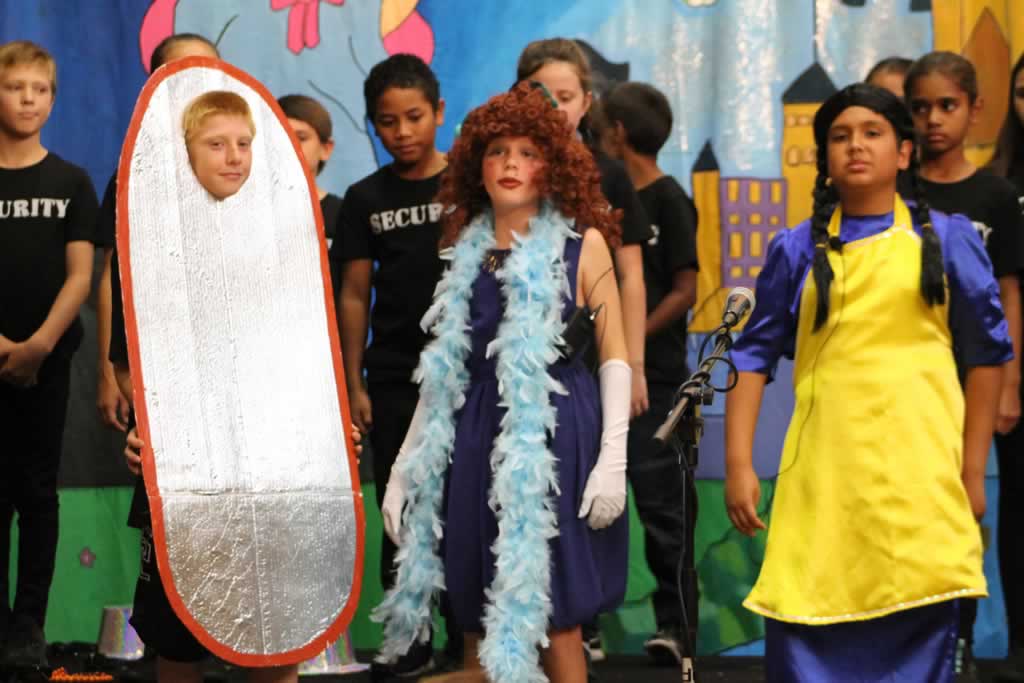 The senior Concert commenced with an amazing performance by our Primary Choir called 'Wish Upon a Star' which got the audience into the fairy-tale theme.
Following this, the Year 3-6 students combined to participate in a pantomime titled 'Cinderella Rockerfella' which was acted out by the Year 6 students and supported by all other classes. Each class sang amazing songs to support the storyline and many wonderful costumes added to the fairytale performance.
Emily Hardy played Cinderella and Zeke Jetta was the handsome Prince Charming, aka 'Rockerfella'. These actors were well supported by an amazing Year 6 cast who impressed the audience with their remarkable ability to remember lines and for their acting prowess.
There were five acts to the pantomime and each class sang songs to support the Year 6 actors. There were many highlights to the evening with children showing their music ability and acting talent.
The corny jokes and costuming brought a smile to many of the audience and ensured a highly successful concert for 2019.
Thanks goes to Mrs Caryn Adamson for her dedication and commitment to the success of this event. She has worked tirelessly for two terms to get the children's performance ready and they did her proud. We also thank Mrs Erin Burnett for her assistance in the design and construction of the wonderful backdrop.
SCIENCE WOODSIDE AWARD
C Fardell (Girl)
M Doncon (Boy)
SCIENCE AWARD
D Sutherland-Scott (Year 5)
ICT AWARD
X Boehme (Year 5)
MUSIC AWARD
E Hardy (Year 6)
VISUAL ARTS AWARD
R Truglio (Year 6)
SPORTSMANSHIP AWARD
A Little (Year 6)
YEAR 3
L Hayden – Academic
C Hatch – Citizenship
YEAR 3/4
N Truglio – Academic
J Van Der Merwe – Citizenship
YEAR 4/5
H Fardell – Academic
M Junk – Citizenship
YEAR 5/6
C Rajagopalan – Academic
S Anderson – Citizenship
YEAR 6
P Hayden – Academic
K Osborne – Citizenship
HEAD GIRL
C Van Der Merwe
HEAD BOY
S Anderson
STUDENT COUNCILLORS
C Rajagopalan
N Shelton
A McGrath
M Kett
HOUSE CAPTAINS
Kelly House
M Junk
Growden House
M Pittout
Law House
O Parker
Mitchell House
X Boehme