2019 K-2 Merrydin Concert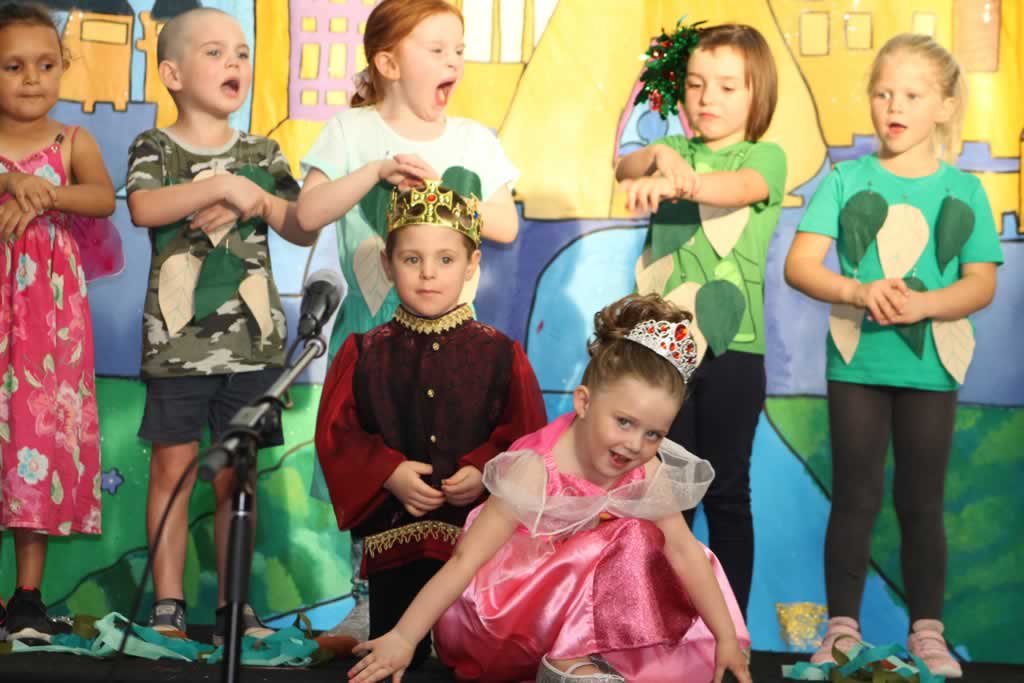 The staff at Merredin College celebrated the end of 2019 and the achievements of our students with two musical evenings dedicated to fairy tales.
At our Kindy – Year 2 concert, we hosted the Granny Awards – Granny (Caley M), a long term survivor of the big bad wolf supported our host, Aira B, for the evening. Our Kindy class delighted us as the forest and Keegan made a very handsome prince battling through the forest to rescue the fair maiden. Kindy/Pre-primary class sang a medley of 'Jack' classics before their major 'Jack in the beanstalk' number. The Pre-primary/Year 1 song recognised Snow Whites contribution to the Fairy Tale industry and the Year 1 song, based on the classic Cinderella, told the funny story of the ugly step sister with a wart on her toe trying to fit into the glass slipper. Throughout the evening the Year 2 students played cameo roles of different fairy tale characters before their final Big Bad Wolf number. The big bad wolf (Calvin H) had been up to mischief throughout the night, trying to steal an award and was pleased as punch when he was awarded with the best villain award at the end of the night.
Thanks goes to Mrs Caryn Adamson for her dedication and commitment to the success of this event. She has worked tirelessly for two terms to get the children's performance ready and they did her proud. We also thank Mrs Erin Burnett for her assistance in the design and construction of the wonderful backdrop.
SCIENCE AWARD
E Kittyea (Year 2)
ARTS AWARD – MUSIC
A Boehme (Year 2)
VISUAL ARTS AWARD
C Manning (Year 2)
ICT Award
K Pitout (Year 2)
SPORTSMANSHIP AWARD
A Boehme (Year 2)
KINDERGARTEN
H Ashwin – Academic
A Willis – Citizenship
KINDY/PRE-PRIMARY
D Buchanan – Academic
L Hatch – Citizenship
PRE-PRIMARY/YEAR 1
K Ryan – Academic
N Odgers – Citizenship
YEAR 1
J Berryman – Academic
S Wild – Citizenship
YEAR 2
C Hardy – Academic
B Manning – Citizenship