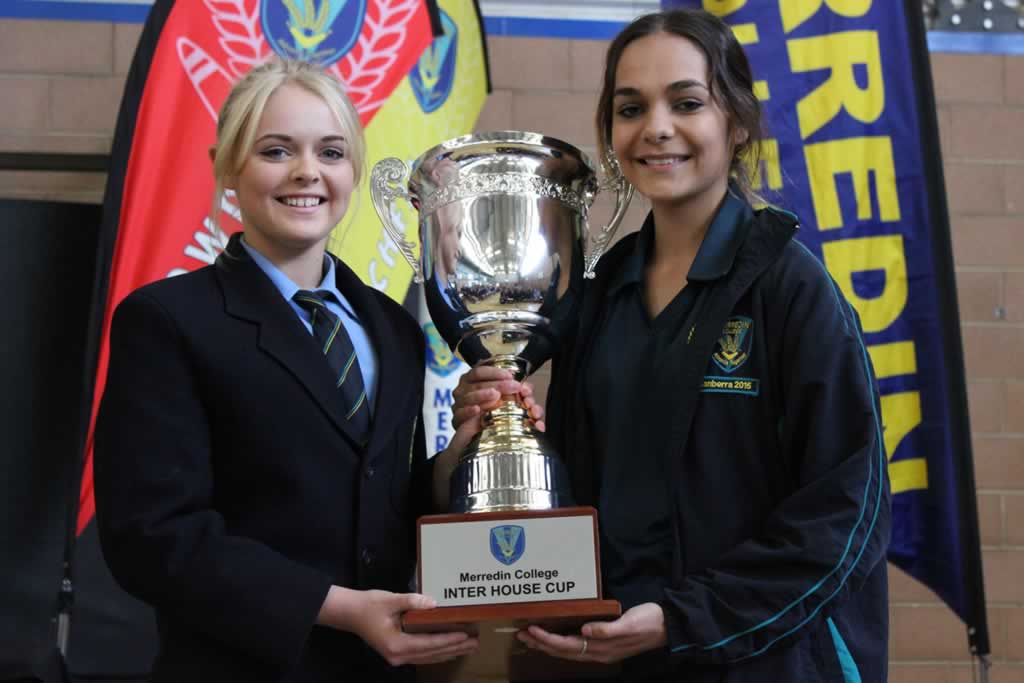 The Merredin College House Cup is awarded annually at the end of Term 3 to the house which is awarded the most points over a whole year. Students can earn points for their houses in many different ways as listed below.
The 2016/17 winning house was LAW on 6427 points.
Students have already started earning house points for the 2017/18 cup which will be announced at the end of Term 3 in 2018. Goodluck!!!
Student of the Month – Term 4, Week 4
Overall Student of the Month – Term 4, Week 4
Student of the Month -Term 1, Week 4
Overall Student of the Month – Term 1, Week 4
Student of the Month – Term 2, Week 5
Overall Student of the Month – Term 2, Week 5
Student of the Month – Term 3, Week 9
Overall Student of the Month – Term 3, Week 9
CAT Competition (Maths)
Semester 2 'A' Grades 2016
Semester 1 'A' Grades 2017
Highest Achievers Semester 1 2017
Science – Bridge Building Comp
Big Science Comp
Science Week Form Quiz
Maths Comp
*High Distinction
*Distinction
*Credits
*Participation
English Competition
260
60
200
20
200
60
130
0
0
570
1060
220
0
65
25
0
15
30
5
0
200
0
250
0
260
40
230
60
0
510
960
280
0
40 (14)
24
0
0
40
5
0
160 (3)
0
250
60 (8)
180
40
190
20 (11)
0
490
840
190
0
15 (15)
22
20 (17)
15 (18)
20
0
0
170 (4)
20 (6)
190
40
190
20
230
40 (12)
0
440
700
150
0
35 (16)
21
0
0
20
5
0
SOM 1st Assembly – Term 4, Week 4
SOM 2nd Assembly – Term 1, Week4
SOM 3rd Assembly – Term 2,Week 5
SOM 4th Assembly – Term 3, Week 9
30 (21)
30 (22)
30
60 (26)
Head Boy/Girl
Senior Councillors
Middle School Councillors
Swimming
Cross Country
Athletics
Volleyball
Tug-o-War (Term 4, 2016)
SSWA Country Week Participant
SSWA Country Week Captains
EASA Swimming Carnival
Captain/Vice Captain
Champion
Runner-up Champion
EASA Cross Country
EASA Athletics Carnival
Captain/Vice Captain
Football v Balga
Football v Warwick
Tennis
Wheatbelt Netball
AFL9s
State School Volleyball Champs
45
0
20
0
0
10
20 (27)
25 (31)
0
30
0
30
25
110
20
65
20
20
0
0
10
20 (28)
20 (32)
10
30
0
30
20
50
10
70
40
20
10
20
0
15 (29)
25 (33)
10 (35)
25
0
25
30
80
25
25
0
20
10
0
10
10 (30)
10
0
15
0
10
15
95
15
Ball Waiters
Footy Umpiring AFL9s
NAIDOC Week Leaders
Treck
Seniors Lunch
15
10 (36)
10
10 (40)
10 (44)
5
10 (37)
40
20 (42)
40 (45)
5
5 (35)
10
20 (42)
30 (46)
1st Assembly (Term 4, 2016)
2nd Assembly (Term 1, 2017)
3rd Assembly (Term 2, 2017)
4th Assembly (Term 3, 2017)
1st Assembly (T4 2016)
2nd Assembly (T1 2017)
3rd Assembly (T2 2017)
4th Assembly (T3 2017)