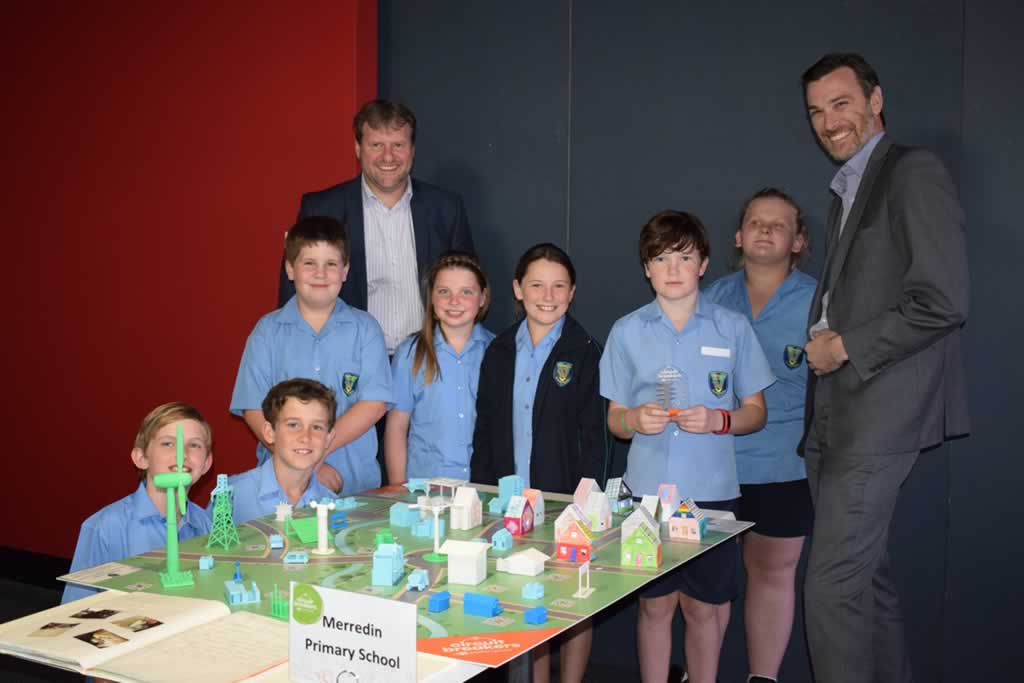 Merredin College's Bright Sparks
It takes a lot of bright sparks to make the world glow.
Merredin College's Year 5 students were shining beacons as they took their place centre stage at the Western Power Future Engineer's Science Fair. After winning only one of the twenty places offered in the Circuit Breakers program, Year 5 did not waste any time as they began to plan, design and create their vision for Merredin's electrical network of the future.
To commence the ten week project, the Year 5 class had to go back to the past before looking towards the future. The class surveyed their grandparents to learn about their energy use and then conducted electrical audits of their homes. Armed with this information we began to make some predictions about our future energy needs. From here we went out into the field to learn more about renewable energy and how we can harness Merredin's wind and sun for the benefit of our community. A visit to Collgar Wind Farm was both informative and reaffirming as we learnt that Merredin is already positively contributing to WA's renewable energy movement. We were also very grateful to Lloyd at Two Dogs for giving us a personal tour and talking about the benefits of solar panels, especially for commercial properties. A visit from Terry Robartson from Merredin Diesel provided us with a better understanding of peaking power plants. Finally, Nigel Bush from Merredin Electrics gave the class an informative presentation about the path power travels from the street into our homes. We were now set to commence work on our network model.
To help bring our vision to life Western Power gave our school two 3D printers. Our class enjoyed the challenges of working with new design software (Tinkercad) and especially loved watching the 3D printers bring our creations to life. The students certainly began to shine as they worked together in engineering teams, each responsible for a separate part of the network. The various inventions were incredible. From solar powered cars, wireless power poles, a home with wi-tricity and Merredin's first electric car charging station, the sky was the limit. As a teacher it was a positive reminder that when children work with technology purposefully they move beyond being consumers instead making the technology work for them. This is the ultimate goal for children growing up in the technology era.
Our ten week project culminated with a visit to Scitech where we presented our network to Western Power's CEO, Guy Chalkley and a team of their engineers. Our two presenters, Mason Robartson and Tyler Bush, spoke with confidence in front of the 200 audience members. We were also very excited to personally meet with and share our network vision with Guy Chalkley. He was particularly interested in the class' innovations. There were many highlights from this program; however the standout has been seeing our students work in collaborative teams, problem solving and imagining a better Merredin. It would appear that Merredin College is a place for budding engineers to hone their skills to come up with the solutions for tomorrow.
Mrs Sarah Postans
Classroom Teacher