Year 12 Graduation – 'Class of 2019'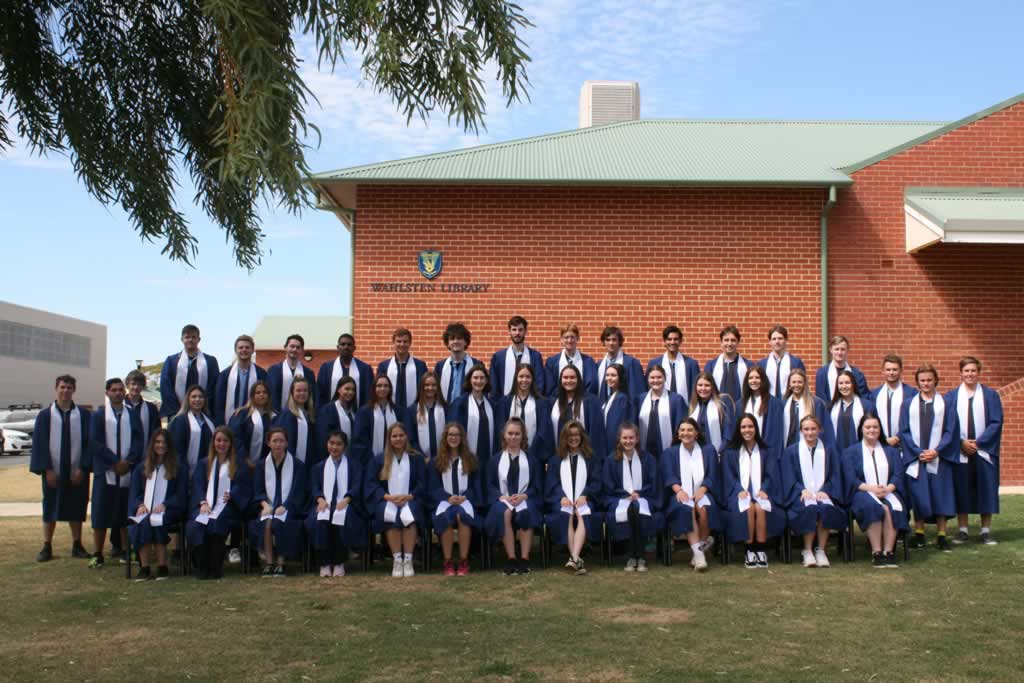 The annual Year 12 Awards Ceremony was a special celebration, held on Thursday 24 October for the 2019 Merredin College graduating students. The Awards Night commenced with the Year 12 Leaving Class of 2019 being presented to a large audience and each student receiving their Leavers' sash.
Principal Mr Alby Huts gave the students some sound words of wisdom and wishes for the future.
The valedictory speech given by Head Boy – Jack Downsborough and Head Girl – Chloe Coomber provided an insight into the cohort's five years of secondary schooling including some of their antics they thought their teachers might now be able to handle.
The Dux of 2018 medallion was presented to Liana Craine, who also offered the graduating class some words of encouragement and advice as they choose their pathways.
Guest Speaker, Mrs Alli Butler from Bruce Rock, provided inspiration for the group with tales of her highs and lows navigating her way through life, searching for the "third door" into a career in drama and comedy.
One of the highlights of the evening was the presentation of the Top Academic Achiever Awards and the Honours Awards as well as the renaming of the Most Consistent ATAR award in honour of the much missed Gerard Rennie. The Inaugural award was presented by Susan Rennie on behalf of the Rennie family in what was a beautiful moment for the whole community.
Merredin College congratulates these students and wishes them the very best for the future as they pursue further education and employment.
Dux of 2018
Sponsored by Copier Support
Liana Craine
LONG TAN LEADERSHIP AWARDS
Sponsored by Australian Defence Force
Maddison Lane
SPORTSPERSON OF THE YEAR
Sponsored by Burracoppin Football Club
Jack Downsborough
MERREDIN RESIDENTIAL COLLEGE ENDEAVOUR AWARD
Sponsored by Merredin Residential College
Cameron Coulthard
TILLER SHIELD
Sponsored by The Tiller Family
Amy Tiller
FLORENCE SCANLON CITIZENSHIP AWARD
Sponsored by Ron Bateman & Co
Chloe Coomber
CALTEX BEST ALL ROUNDER AWARD
Sponsored by Karni Engineering
Chelsea Willis
EXCELLENCE IN VET AWARD
Sponsored by Bankwest
Jasmin Spencer
MOST CONSISTENT ATAR STUDENT
Sponsored by Mr & Mrs G Rennie
Chelsea Willis
INCLUSIVE EDUCATION
Sponsored by Essential Personnel
Mable Ugle
GENERAL DANCE
Sponsored by Melissa Price MP 
Maddison McWilliam
GENERAL DRAMA
Sponsored by Supa IGA Merredin
Maddison McWilliam
GENERAL VISUAL ARTS
Sponsored by Hon Darren West MLC
Maddison Lane
FOUNDATIONS ENGLISH
Sponsored by Karni Engineering
Juliet Durham-Ludlow
GENERAL ENGLISH
Sponsored by Ag Implements Merredin
Maddison Lane
ATAR ENGLISH
Sponsored by Merredin Rural Supplies
Chelsea Willis
GENERAL PHYSICAL EDUCATION STUDIES
Sponsored by Landmark
Febe Irving
ATAR PHYSICAL EDUCATION STUDIES
Sponsored by Nukarni Football Club
Chelsea Willis
GENERAL CAREER AND ENTERPRISE
Sponsored by Nextra News
Jasmine Spencer
ATAR MODERN HISTORY
Sponsored by Merredin Telephone Services
Chelsea Willis
GENERAL MATHEMATICAL ESSENTIALS
Sponsored by Shire of Merredin
Courtney McWilliam
ATAR MATHEMATICAL APPLICATIONS
Sponsored by Hutton & Northey Sales
Chelsea Willis
ATAR MATHEMATICAL METHODS
Sponsored by Middleton Accountants
Amy Tiller
ATAR MATHEMATICAL SPECIALIST
Sponsored by RSM Australia Pty Ltd
Amy Tiller
ATAR CHEMISTRY
Sponsored by Merredin Refrigeration & Gas
Amy Tiller
ATAR HUMAN BIOLOGY
Sponsored by Wheatbelt Country Supplies
Chelsea Willis
ATAR PHYSICS
Sponsored by Hon. Mia Davies MLA
Alexander Rajagopalan
GENERAL FOOD, SCIENCE & TECHNOLOGY
Sponsored by Doorways Inc
Annalyce Wynne
CERTIFICATE II IN AUTOMOTIVE VOCATIONAL PREPARATION
Sponsored by Ag Implements Merredin
Jade Gardiner
CERTIFICATE II IN BUILDING & CONSTRUCTION
Sponsored by Drakeford Building Contractors
Cameron Coulthard
CERTIFICATE II IN BUSINESS
Sponsored by Central Regional TAFE
Jasmine Spencer
CERTIFICATE II IN ENGINEERING PATHWAYS
Sponsored by Karni Engineering
Kayla Kelly
CERTIFICATE II IN SPORT COACHING
Sponsored by Hon. Laurie Graham MLC
Febe Irving