Year 12 Graduation 'Class of 2017'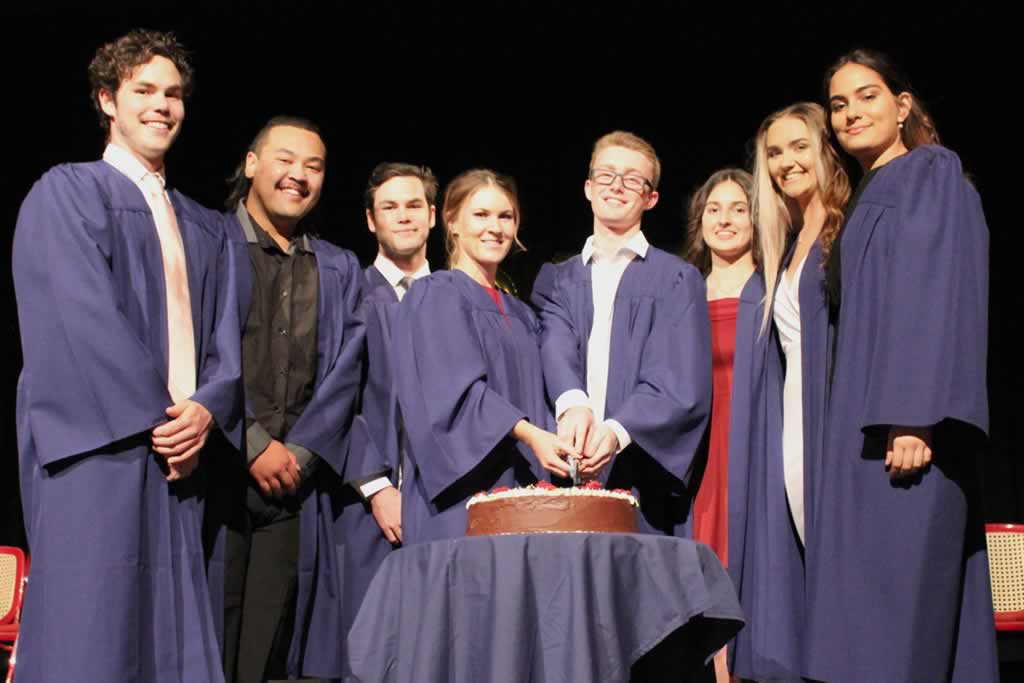 Our Year 12 Class of 2017 officially attended their final day of school on Thursday 12 October. The following morning they were all invited to share a special morning tea at school with staff where Funny Awards and Appreciation Awards were exchanged.  A special thanks goes out to Mrs Newton, Mrs Willis, Mrs Barrass and the Hospitality class who prepared a delicious morning tea.
On Friday 20 October the Year 12 students attended the Cummins Theatre along with their families, staff, special guests and sponsors from the community to celebrate their graduation. The night's proceedings commenced with the presentation of the 2016 Merredin College Dux Award to Trent Starcevich who acheived an impressive ATAR of 97.6% last year. The Guest speaker for the event was Brady Flockart, also an ex-student of Merredin College, who shared with guests some of his challenges and achievements since leaving school.
Head-boy and Head-girl Joshua Dixon and Lauren Barrass presented Mrs Stanes with a flat screen TV for the College as the Year 12 leaving gift to the school.  The TV has been placed in the front office to display photos from school events. We would like to especially thank our sponsors for making themselves available at this special ceremony to present the Highest Achievement and Honour Awards for 2017.
INCLUSIVE EDUCATION
Sponsored by Essential Personnel
E Hendriks
GENERAL PHYSICAL EDUCATION STUDIES
Sponsored by Nukarni Football Club
Z McQuistan
ATAR PHYSICAL EDUCATION STUDIES
Sponsored by Merredin Telephone Services
C Thornton
GENERAL ENGLISH
Sponsored by Middleton Accountants
B Powell
ATAR ENGLISH
Sponsored by Supa IGA
J Muir
ATAR Modern History
Sponsored by Merredin Shire
J Hubeck
ATAR CHEMISTRY
Sponsored by Nextra Newsagency
L Barrass
ATAR HUMAN BIOLOGY
Sponsored by Landmark
C Thornton
ATAR PHYSICS
Sponsored by Petticoat Lane
I McDonald
MATHEMATICAL FOUNDATIONS
Sponsored by Merredin Rural Supplies
G Hayden
GENERAL MATHEMATICAL ESSENTIALS
Sponsored by Ron Bateman & Co
C Pearce
ATAR MATHEMATICAL APPLICATIONS
Sponsored by RSM Bird Cameron Accountants
A Miller
ATAR MATHEMATICAL
Sponsored by Hon. Mia Davies
I McDonald
GENERAL MATERIALS, DESIGN & TECHNOLOGY – METALS
Sponsored by Melissa Price Member for Durack
C Subiza
CERTIFICATE II IN AUTOMOTIVE
Sponsored by Two Dogs Home Timber & Hardware
Z McQuistan
CERTIFICATE II IN BUILDING & CONSTRUCTION
Sponsored by Petticoat Lane
K Kahika Lewis
CERTIFICATE II IN BUSINESS
Sponsored by Shire of Merredin
B Powell
CERTIFICATE II IN ENGINEERING PATHWAYS
Sponsored by Karni Engineering
Z McQuistan
CERTIFICATE II IN INFORMATION, DIGITAL MEDIA & TECHNOLOGY
Sponsored by Ag Implements
B Powell
LONG TAN LEADERSHIP AWARDS
Sponsored by Australian Defence Force
L Barrass
SPORTSPERSON OF THE YEAR
Sponsored by Cepi & Drakeford Building
Z McQuistan
MERREDIN RESIDENTIAL COLLEGE ENDEAVOUR AWARD
Sponsored by Merredin College
K Osborne
TILLER SHIELD
Sponsored by The Tiller Family
S Tiller
FLORENCE SCANLON CITIZENSHIP AWARD
Sponsored by Petticoat Lane
J Muir
CALTEX BEST ALL ROUNDER AWARD
Sponsored by Karni Engineering
C Thornton
EXCELLENCE IN VET AWARD
Sponsored by Australia Super Westscheme
C Pearce
MOST CONSISTENT ATAR STUDENT
Sponsored by Merredin College P & C
I McDonald