Year 12 Graduation – 'Class of 2018'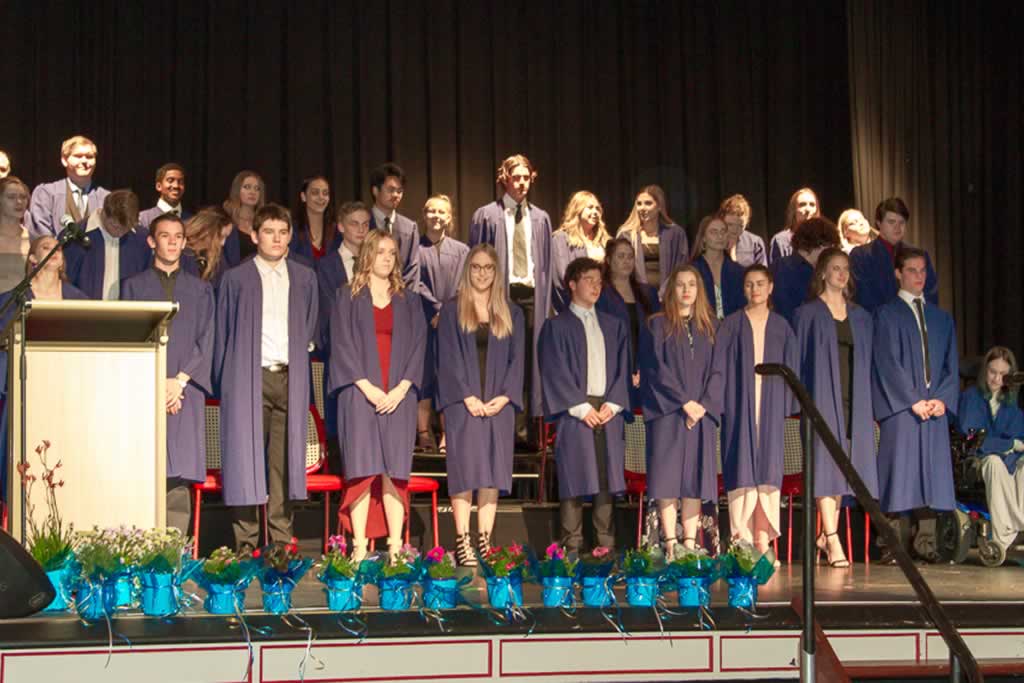 It was a special night on Friday for 34 Merredin College students who have just completed their 12 years of formal education. The Awards Night commenced with the Year 12 Leaving Class of 2018 being presented to a large audience and each student receiving their Leavers' sash.
The valedictory speech given by Head Boy Joshua Burrell and Head Girl, Liana Craine provided an insight into the cohorts five years of secondary schooling including some of their antics they thought their teachers might now be able to handle.
Guest Speaker, Mr Jon Tiller, who was in the Leavers Class of Merredin Senior High School in 2006, provided inspiration for the group with tales of his highs and lows navigating his way through university and into a career in Law.
The Dux of 2017 medallion was presented to Isaac Mc Donald and also offered the graduating class some words of encouragement and advice as they choose their pathways.
Mrs Julie Flockart, Merredin College Board Chairperson, made a special presentation and farewell to Mrs Beverley Stanes, Merredin College's inaugural Principal, who is retiring at the end of this year after a lifetime of service to education. Mrs Stanes has worked tirelessly for seven years to establish Merredin College as the benchmark for education in the Wheatbelt as well as achieving Independent Public School status.
The highlight of the evening was the presentation of the Top Academic Achiever Awards and the Honours Awards.
Merredin College congratulates these students and wishes them the very best for the future as they pursue further education and employment.
Dux of 2017
Sponsored by Copier Support
Isaac McDonald
LONG TAN LEADERSHIP AWARDS
Sponsored by Australian Defence Force
Tnaya Withers
SPORTSPERSON OF THE YEAR
Sponsored by Nukarni Football Club
Lana Drakeford
MERREDIN RESIDENTIAL COLLEGE ENDEAVOUR AWARD
Sponsored by Merredin Residential College
Chester Navales
TILLER SHIELD
Sponsored by The Tiller Family
Naomi Coelho
FLORENCE SCANLON CITIZENSHIP AWARD
Sponsored by Wheatbelt Country Supplies
Nicola Beck
CALTEX BEST ALL ROUNDER AWARD
Sponsored by Karni Engineering
Liana Craine
EXCELLENCE IN VET AWARD
Sponsored by Australia Super Westscheme
Nicola Beck
MOST CONSISTENT ATAR STUDENT
Sponsored by Merredin College P & C
Liana Craine
INCLUSIVE EDUCATION
Sponsored by Essential Personnel
Naomi Whitehouse
GENERAL PHYSICAL EDUCATION STUDIES
Sponsored by Ag Implements Merredin
Lana Drakeford
ATAR PHYSICAL EDUCATION STUDIES
Sponsored by Burracoppin Football CLub
Chester Navales
GENERAL ENGLISH
Sponsored by Ag Implements Merredin
Nicola Beck
FOUNDATIONS ENGLISH
Sponsored by Merredin Rural Supplies
Anastacia Sidwell
ATAR ENGLISH
Sponsored by Hutton & Northey Sales
Jack Fitzsimons
ATAR Modern History
Sponsored by Merredin Refrigeration & Gas
Liana Craine
ATAR HUMAN BIOLOGY
Sponsored by IGA
Chester Navales
GENERAL DANCE
Sponsored by Melissa Price, Member for Durack
Liana Craine
GENERAL VISUAL ARTS
Sponsored by Middleton Accountants
Tahnaya McLellan
GENERAL FOOD, SCIENCE & TECHNOLOGY
Sponsored by Nextra Newsagency
Nicola Beck
GENERAL MATERIALS, DESIGN & TECHNOLOGY-METALS
Sponsored by Karni Engineering
Melissa Shaw
GENERAL MATHEMATICAL ESSENTIALS
Sponsored by Ron Bateman & Co
Samantha Cash
ATAR MATHEMATICAL APPLICATIONS
Sponsored by RSM Bird Cameron Accountants
Alexander Clement
ATAR MATHEMATICAL METHODS
Sponsored by Hon. Mia Davies
Chester Navales
CERTIFICATE II IN AUTOMOTIVE
Sponsored by Ag Implements Merredin
Dakota Jackson-Lowry
CERTIFICATE II IN BUILDING & CONSTRUCTION
Sponsored by Central Regional TAFE
Ethan Corey
CERTIFICATE II IN BUSINESS
Sponsored by Shire of Merredin
Sophie Caplan
CERTIFICATE II IN ENGINEERING PATHWAYS
Sponsored by Karni Engineering
Tyler Westberg
CERTIFICATE II IN INFORMATION, DIGITAL MEDIA & TECHNOLOGY
Sponsored by Ag Implements Merredin
Nicola Beck
CERTIFICATE III IN INFORMATION, DIGITAL MEDIA & TECHNOLOGY
Sponsored by Ag Implements Merredin
Dylan Last
CERTIFICATE II IN SPORT COACHING
Sponsored by Drakeford Building Contractors
Nicola Beck