Students learn a variety of sports and engage in physical activities that are aimed to provide a sense of enjoyment, develop life-long interest in physical activity for health and foster positive social skills.
Health and Physical Education at Merredin College is dedicated to the delivery of a program which provides students with opportunities to participate and excel in physical activities in an enjoyable, caring environment. Our program is designed to provide students with a holistic approach to developing their mind and body.
The learning area develops physical skills to an appropriate level for each student and offers opportunities to compete in house and inter school sporting competitions.
Our aim is to educate students to develop positive attitudes towards physical activity and to equip them to make healthy lifestyle choices.  The Health and Physical Education program also focuses on giving students the knowledge and skills to make informed decisions about their health and well-being.
The College also provides extra opportunities for high achieving and enthusiastic athletes. Students have the opportunity to represent the College and the local community in sports such as basketball, netball, hockey, volleyball, Australian Rules football and tennis. Interschool competitions in swimming, athletics and cross country are well attended by Merredin College students with a great degree of success.
The ultimate success indicator is when students continue to participate in sporting and recreational activities with responsible lifestyle choices in their post school years.
Primary Health and Physical Education
Our primary students take part in physical activity each day and have the opportunity to participate in the annual swimming and athletics carnivals. They have specialist physical education instruction during the week as well participate in whole school sport once a week. Students train for various carnivals we hold throughout the year including our athletics, cross country and winter carnivals with our top athletes competing in interschool events.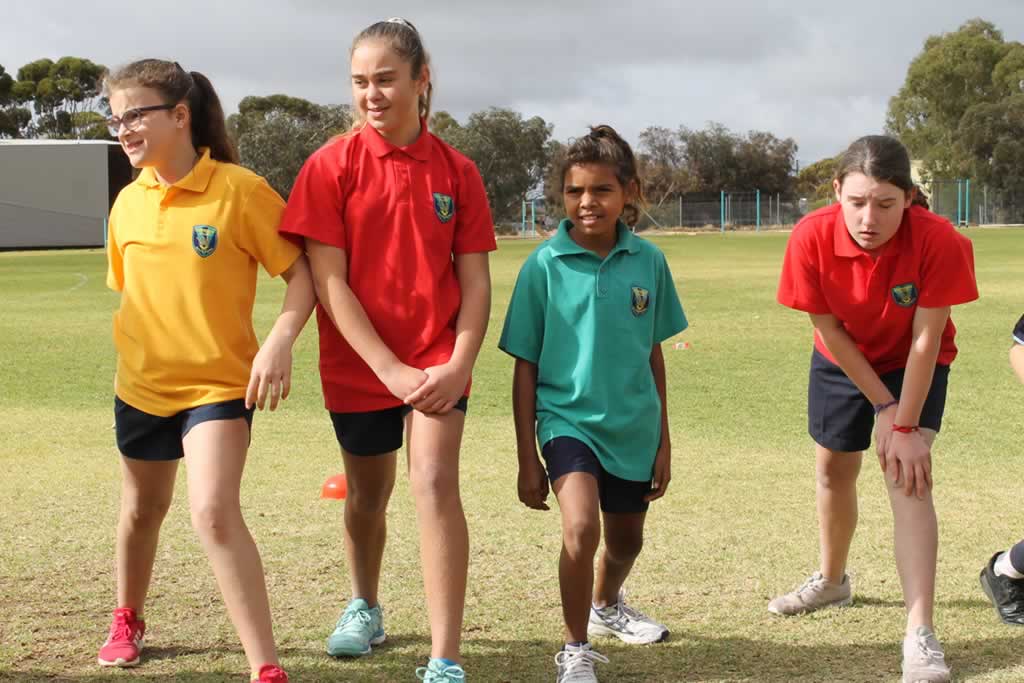 Secondary Health and Physical Education
Lower secondary Merredin College Health and Physical Education students study the following courses:
Physical Education

Health Education
More About Each Context
Physical Education
The Physical Education program is designed to develop movement and physical activity in our students. We provide our students with a wide variety of sports that may not otherwise get to participate in whilst living in the country.
These sports include:
AFL
Athletics
Basketball
Cricket
European Handball
Hockey
Netball
Soccer
Sofcrosse
Tee-ball/Softball
Tennis
Volleyball
Health Education
In Health we focus on the development of students personal, social and community health understandings. We provide students with a health curriculum that covers issues that they may encounter either through their own personal life experiences or experiences relating to family or friends. Some topics include self-identity, respectful relationships, challenges during puberty, life style diseases, act belong commit and Keys for Life Program.
At Merredin College we strongly support the importance of teaching protective behaviours to our students through the use of the 'Protective Behaviours Program' and students develop their skills in this area throughout the Year 7 to 10 Health program.
Our program aims at providing students with the knowledge and life skills needed to be an active healthy participant in the community.
Volleyball Program
The Merredin College Volleyball Program is inclusive for students from Years 7 – Year 12 and specialises in Indoor Volleyball. Students in the program must qualify for the position by undergoing a rigorous evaluation process assessing the student's ability, attitude, behaviour, work ethic and character. The goal of the program is to compete at the highest level and see success in prestigious West Australian competitions such as Senior Schools Country Week and W.A State Schools Cup and the national competition, Australian Volleyball Schools Cup.
Senior secondary Health and Physical Education students can select from the following pathways:
ATAR Physical Education Studies
Units 1 & 2 in Year 11 and Units 3 & 4 in Year 12.
GENERAL Physical Education Studies
Units 1 & 2 in Year 11 and Units 3 & 4 in Year 12.
In the Physical Education Studies ATAR course students learn about physiological, psychological and biomechanical principles, and apply these to analyse and improve personal and group performances in physical activities. Throughout the course, students learn through integrated written, oral and active learning experiences. The course also provides students with opportunities to develop skills that will enable them to pursue personal interests and potential in physical activity as athletes, coaches, officials, administrators and/or volunteers.
GENERAL Outdoor Education
Units 1 & 2 in Year 11 and Units 3 & 4 in Year 12.
Through interaction with the natural world, the Outdoor Education ATAR course aims to develop an understanding of our relationships with the environment, others and ourselves, and ultimately contribute towards a sustainable world. The integrated approach within this course allows for practical activities, theoretical concepts, and relationship with the environment to be incorporated into a meaningful program of learning. It provides students with an opportunity to develop essential life skills and physical activity skills, an opportunity to develop a comprehensive understanding of the environment and develop a positive relationship with nature.
For more detailed information about each ATAR and General courses, go to the School Curriculum and Standards Authority (SCSA) link on this page.